The abortion debate is alive and well in the United States today, and it's likely you have your own opinions about the value of prenatal life, and the question of when life first begins. Perhaps a smaller number of us have thought specifically about the value of a life prenatally diagnosed with disability.
We would probably agree a baby diagnosed with a cleft palate or club feet should not be treated differently from any other child, but what about a child diagnosed with Down Syndrome or Spina Bifida? And what about a child who has no chance of even surviving being born? Many societies share the opinion that pregnancies with a prenatal diagnosis of disability should be treated differently from the treatment of pregnancies deemed 'normal.'
I don't think there's a book on the shelf that has had a more profound impact on my understanding of disability, especially as it relates to prenatal life, than Sarah Williams' Shaming of the Strong. Subtitled The Challenge of an Unborn Life, this book chronicles Williams' experience in her third pregnancy — a pregnancy very different from her first two.
Sarah, her husband, and her two daughters are delighted when they discover their family is expecting a third child. The joy quickly changes to sadness when prenatal testing reveals that the baby has a very debilitating disease and, if she even makes it to full term, is unlikely to survive birth.
A university professor and firm believer in the Christian faith, Williams and her husband agree that they will not choose to abort the child, even though doctors have indicated there is no chance of survival.
This book is the beautiful and heart-wrenching story of their decision to carry the baby full term, the pregnancy itself, and the experiences of the family members as they both celebrate and grieve a very brief life.
How valuable is human life? How valuable is unborn life — and does that value change when there is a diagnosis of disability?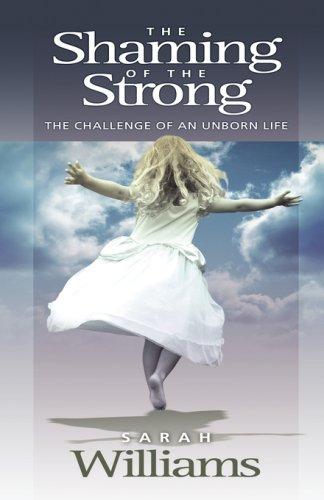 Shaming the Strong is a very skillfully written book, and a powerful answer to questions regarding the value of prenatal life when a disability diagnosis is present.
Echoing the words of 1 Corinthians 1:27, But God has chosen the foolish things of the world to put shame to the wise, and God has chosen the weak things of the world to put shame to the things which are mighty… Williams' story is both incredibly poignant and incredibly profound. It challenges traditional notions of weakness, and points to beauty at every turn.
I highly recommend picking up a copy soon!
Should babies prenatally diagnosed with disability be treated differently from others? What do you think? Click over to the Signposts Community to voice your opinion now!