You may have found your way to Signposts Ministries because you needed to hear someone else's story. Perhaps you needed to know you weren't alone in a struggle with disability or chronic health problems. Maybe you were searching for information because you've received a prenatal diagnosis you're uncertain about.
Whatever the reason, we're glad you found your way here. We hope this space has been a blessing to you.
We're also confident in the possibility that you have a story to tell. Has a diagnosis changed your world? Has a friend's, a child's, a parent's health problem or disability been a life-shaping experience for you?
Signposts Ministries would love to invite you to share your story.
Because your words may be exactly what someone else needs to hear.
Because you might find out you're not alone, just by speaking up.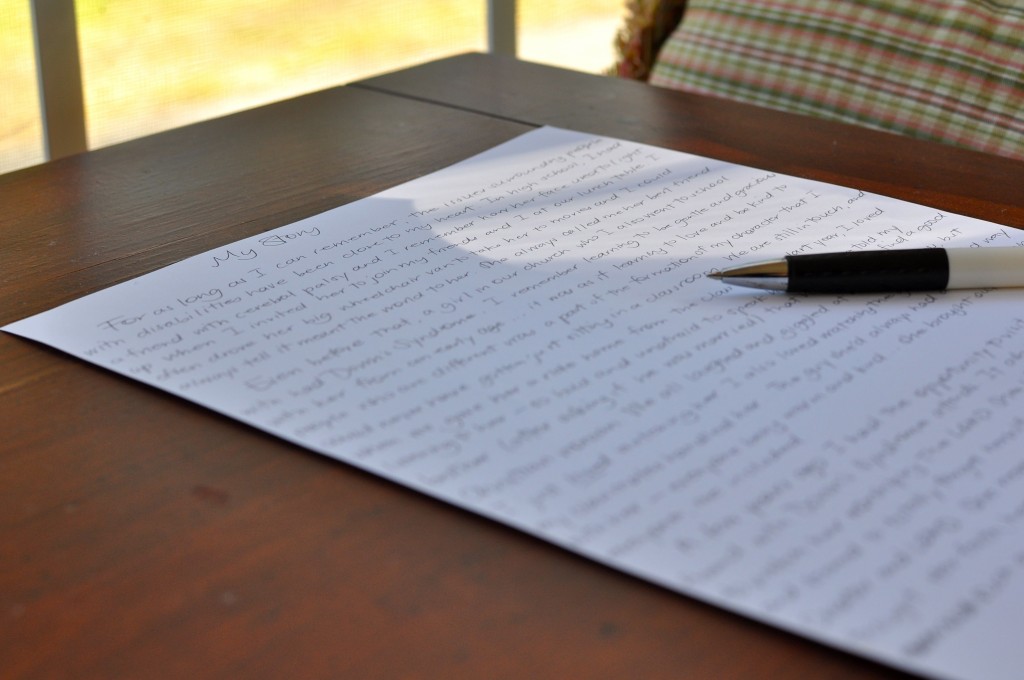 We're launching a new feature here at Signposts, and we hope you'll be a part of it.
We'd like to invite you to share you story, right here.
Don't worry if you don't have the perfect words. Don't worry if you struggle with grammar or spelling. Don't worry whether you're able to capture all of what you want to say just right. Just write.
Taking the time to share your story could mean the world to someone who especially needs to hear it.
Everyone's got a story to tell.
We hope you'll share yours, right here.
Interested in sharing your story? Check out the slider below for more details about sharing your story with Signposts. We hope to hear from you soon!
We'd like to suggest a limit of 1,000 words, but longer stories can be split into two posts.
You are welcome to submit photos along with your story, or we will choose appropriate accompaniment.
You are welcome to share your story with SPM anonymously.
You might like to read our about page to get a sense of what the SPM community is like.
Please submit your story via email to info@signpostsministries.org, attached as a Word Document with the subject line "Share Your Story".
You can submit photos to the same address, please use jpeg format and when possible, high resolution.
SPM may edit your post to prepare it for the web, (grammar, spellcheck, adding bold and italics, etc.) but you will have the opportunity to give approval before publishing.
We will prayerfully read and consider each submission, but we respectfully reserve the right to choose not to publish your story if we feel it is not a good fit.