Six-year-old Ryan Langstrom has hit the modeling big-time. He appeared in the January 1st Target circular in an orange shirt and brown casual pants — but it wasn't his outfit that put his story in the spotlight.
Unlike the other child models in Target's latest circular, Ryan has Down Syndrome.
His inclusion in the circular has drawn complements for Target and sparked media interest as far away as London. People within the Down Syndrome community are pleased — Ryan's modeling career is a favorable depiction of disability and seems like a step forward for the disability community.
This isn't Ryan's first gig, either — he appeared in a Nordstrom catalog just last summer. Like any parents would be, his parents are very proud. "Ryan is very professional," says his mom, Amanda Langston. "When he gets there and sees that he's going to put on an outfit, he's very into it. We love it for him because we started to see how he responded to it. He's so proud of himself and it is a huge confidence booster."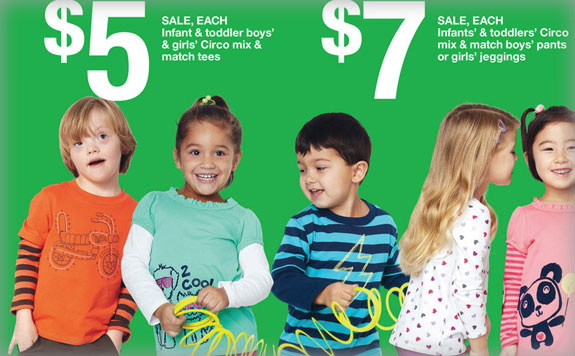 (target image via disability scoop)
Late last year, Taya Kennedy made the headlines with similar flair. Taya also has Down Syndrome, and at just 14 months old, she was among the 50 children chosen out of 2,000 applicants to model for a prestigious UK modeling agency. She will likely feature with major brands like Mothercare and the Early Learning Centre soon.
Seeing people with disabilities portrayed favorably in a very image-conscious industry is a big boost for the disability community as a whole. Hopefully we'll be seeing more of Ryan, Taya, and other children like them, soon!
You can read more about Ryan's story at disability scoop and more about Taya at the Daily Mail.