Sweet Stuff is a new feature in the Signposts Community, where we share uplifting and inspirational stories from around the web that put people with disabilities, or disability itself, in a positive light. Feel free to email us anytime if you have something to contribute!
It's perhaps the only restaurant in the US run by a person with Down Syndrome: Tim's Place, in northwest Albuquerque might also be the only restaurant in the US where hugs are on the menu. Read the story here.
A Dancer with Down Syndrome bagged first place in a National Ballroom competition. Watch and read his story here.
Are apps the key to revolutionizing learning for people with autism? BBC News tells the story of how technology has completely changed one little girl's life.
This video from a middle school basketball game is brief but inspirational: with a few minutes left in the game, Ty Schultz, a student with Down Syndrome checked in. Schultz missed a pass from a team member, but a member of the opposing team caught the ball and passed it back to Ty. He immediately made a layup and the small crowd erupted with excitement. You can view the video on Facebook, here.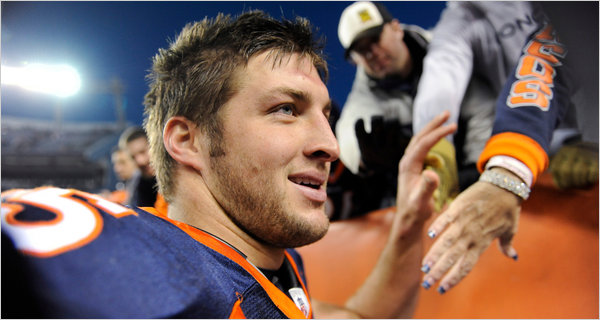 image via New York Times 
It's hard to go a day without hearing some mention of Broncos Quarterback Tim Tebow in the media. And I suppose today's no different. Tebow is constantly welcoming people with chronic health problems and disabilities into his life, specifically by welcoming them to his football games, one family at a time. He speaks about the privilege of getting to meet "some of the coolest, most courageous people" in this article at ESPN.
We hope you enjoy a few good reads this week!