As I approach this month of writing I'm brought back to years ago when our first son, Noah, took his first steps.  As I recall the event my heart swells with love for the little guy as he stood, struggled to stand firm with his tiny little feet.  The difficulty of walking for a young child is beyond what we can imagine as adults. Although we know we too had to learn to walk, we most likely learned to walk before we could even understand what it meant to walk. Walking is such a privilege and something we often take for granted since most everyone can walk.
As I reminisce, some of my favorite pictures are of Noah, our son, Emma, our daughter, and Tommy, my husband, walking the long driveway to get the mail.  Their tiny little legs, walking two by two tucked into the palms of a young strapping daddy, who proudly holds their hands as if to comfort them and allow them to lean on him for balance to prevent falling.  The days of learning to walk and run are of the past. With Noah at age 11 he can practically run circles around us on the basketball court and Emma can ride her bike to the point I don't think her legs will ever come off the pedals.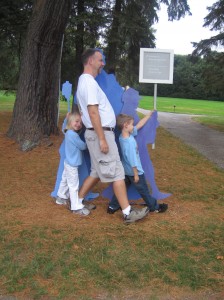 Today it has become second nature not only for Noah and Emma but also for me and Tommy.  We don't have to think about it, we don't have to work at it, we don't have to pray to God to provide us the strength to walk today — we just do it.
Now, that is not the case for our son Luke.  Just in the last month he has begun to really "try" to walk. Watching Luke walk compared with Noah and Emma has been a stark contrast to what we you might normally think of when you think of walking.  Feet planted firmly, not really; knees locking to be ready to step, not really; hips working in conjunction to move the leg, not really — the simple task of walking is not always so simple.
Luke must work ten times harder to be able to communicate to his brain to move one leg or foot and then the other.  The steps of one after the other do not come naturally or easily.  Encouraging Luke to walk takes commitment from not only Luke, but also our therapist, us as parents, and his siblings.  Luke's steps are taken with great pride, with great acknowledgement and with much praise from all onlookers.  These steps are taken very carefully, tedious, well thought out steps ensuring every part of his body is secure, ensuring each step is fully grounded to prevent falling.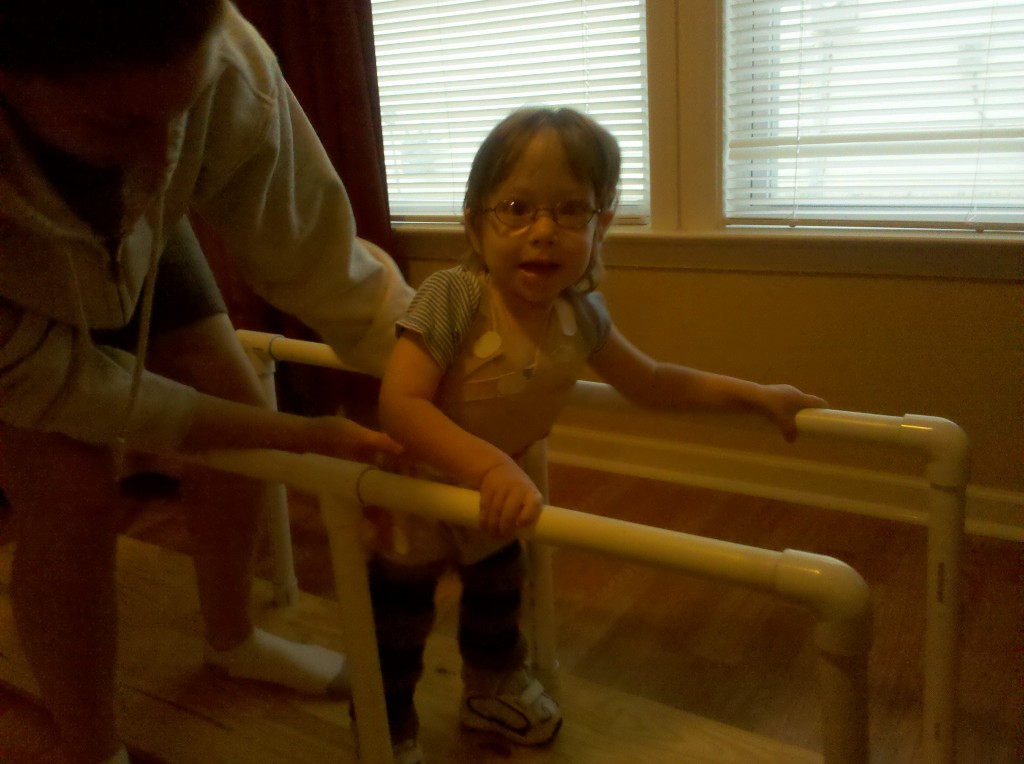 I can't help but equate this back to my life in Christ — am I taking the steps that I should be towards the goal God has laid out for me?  Am I seeking Christ with each step that I take?  Are my steps well thought out steps?  Is God proud of me for the steps I am taking to grow his ministry?  Am I grounded in His word so that I can stand firm on Christ's foundation?
Eph 6:13-15 – Therefore, put on the full amour of God, so that when the day of evil comes, you may be able to stand your ground, and after you have done everything, to stand. Stand firm then, with the belt of truth buckled around your waist, with the breastplate of righteousness in place and with your feet fitted with the readiness that comes from the gospel of peace. 
I don't expect that Luke will ever walk like Noah and Emma, but I do hope that we will continue to raise Luke to not rely solely on his feet to provide his foundation. We want him to rely on Christ as his foundation. Christ's foundation will not waver or fall.  It will not require him to be strapped into any contraption to enable the walking. No therapist or assistance from family is necessary. Instead God's foundation will fill him with peace, love, joy, strength, patience, kindness and so much more.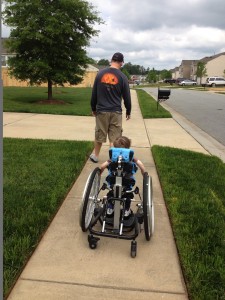 Instead of holding daddy's hand here on earth, he will be holding our heavenly Father's hand with every step he takes toward the calling Christ has called for him.  I pray that each of our children will not rest in the assurance of the world but instead will rest in the assurance of our heavenly Father.  I hope that God is looking down on Tommy and I with proud eyes and applauding hands saying, "well done my good and faithful children".
Whether you remember your first steps as a child, or beginning your first steps towards a dream (like me) or maybe  following your husband state to state as God provides work, remember to have your feet fitted and stand firm on Gods foundation.