I've never really thought of being a person that has PRIDE but recently I've discovered it is PRIDE that has gotten in the way for me in more ways than one! This will not be an easy subject for me to discuss because it is hard for a person with pride to admit that they're prideful! However, through much prayer, God revealed to me that I have issues with PRIDE that need to be squashed.
How many times have you been asked, "Can I help you in any way?" and you've responded NO. Whether you need food for dinner that night, a tank of gas for the car, a house cleaning or someone to pick up the kids from school one afternoon because you'll be across town at appointment? How many times have you avoided someone because you know they are the kind, generous ones, who are just looking to help someone but in your mind you think "I'm not that person?"
It's difficult for any family dealing with medical issues that require frequent visits to and from doctors, therapy sessions in the home all while working a full time job, being a mom or dad, wife or husband, volunteer in your community or church, helping with homework, laundry, cooking or dishes… and so on. The day to day tasks are always complicated by the visits to and from and it can sometimes be overwhelming.
My favorite comments from some of my very close friends are You need to slow down…. Just say no… Get more rest… I love my friends dearly and yes I do say NO to lots of things but there is still a whole list of "can't say no" items that need to get done. I am a giver at heart. So many times it's hard for me to be the one that is on the receiving end when I'm a giver at heart. I like to be the one who is cooking the meal for the family who just had a new baby, or just arrived home from surgery, or provide a meal for a friend who is tight on their budget that month.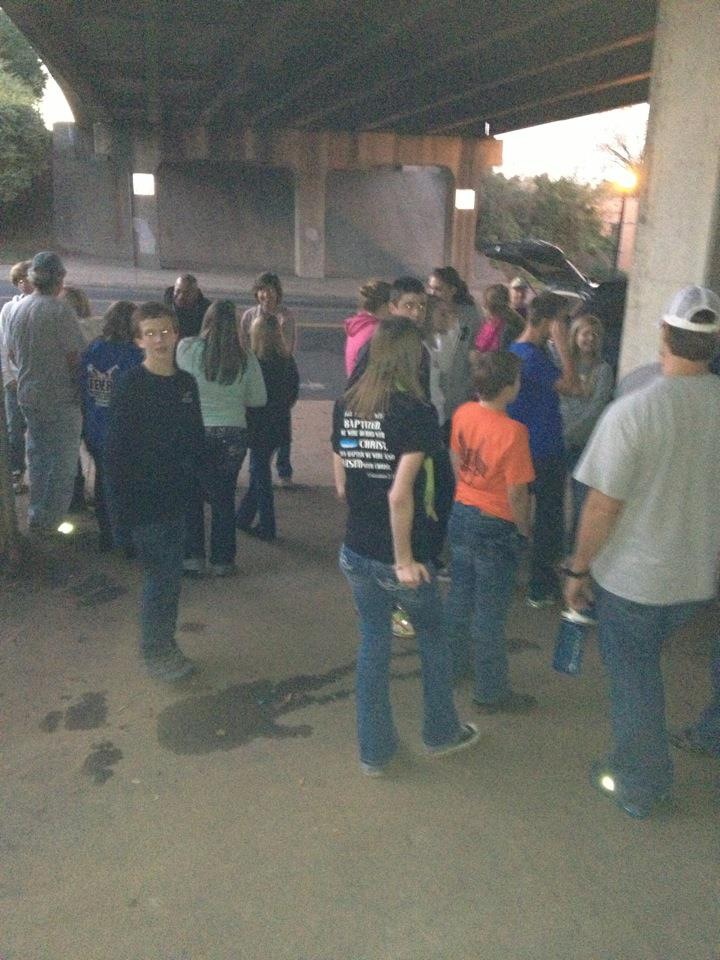 My son Noah feeding the homeless.
What I've found over the last year is that sometimes I am the person that needs to say yes when help is offered. It's very humbling to me to say YES when I'm thinking No (remember I'm the giver!) but God is calling me to answer that offer with a yes. A dear friend of mine said to me recently, if I keep saying no then not only am I missing the blessing of the giver but so is the giver! WOW! I'd never even considered that the giver would miss the blessing that it would bring them by giving to us!
I know I am so blessed when I am the giver but to be taking the blessing of the giver when I'm the receiver… WOW!
The BIBLE says: Psalm 10:4 – In his pride the wicked man does not seek him; in all his thoughts there is no room for God. The Bible also says: Ephesians 3:20 – He will do immeasurably more than all you could ask or imagine, according to the power that is at work within you. If I'm not seeking God because I'm letting PRIDE hinder me, then how is God to work in my life?
Now I'm still not great at Pride. I still don't like to ask or even need the help, but what I am doing is seeking God and making sure I'm not missing out on what God has in store for me. When someone asks if they can help, I now either respond if I know I have an immediate need or I tell them I'll get back to them once I've prayed about it.
We've been very fortunate to have SO many givers surrounding us over the last few years that when I look back at all the many blessings we have received I can't image saying NO all those times. As much as it "bugged" me to say yes, WE ARE GREATLY appreciative of those gifts.
To all those that are givers, may God continue to bless you! May God continue to GIVE to you so that you can continue to be givers! Proverbs 18:16 – A gift opens the way and ushers the giver into the presence of the great.